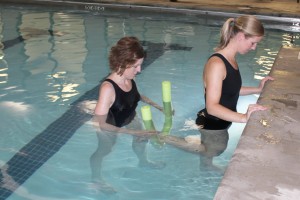 Article By: Darcie Bontje, Sioux Falls Women Magazine
While physical therapy is the prescribed course of treatment for many orthopedic injury sufferers, a land-based regimen is not suitable for some patients.
Brad Pfeifle, vice president of Sports Medicine and Rehab Services at Orthopedic Institute, says that's where OI's new aquatic therapy program fits in. "This is a great adjunct to our current physical therapy services for patients who can't tolerate ground-based rehabilitation services."
Through its partnership with GreatLife Malaska Fitness Club, Orthopedic Institute now offers aquatic therapy at GreatLife Woodlake Athletic Club, 4600 Tennis Lane in Sioux Falls.
Aquatic therapy allows patients who are unable to fully weight bear to ambulate sooner because they are more buoyant, Brad says.
The treatment minimizes swelling, improves range of motion, gently builds strength and decreases the impact on joints. It can be used independently, where a patient is gradually transitioned to land-based therapy, or in combination with a ground-based program.
Benefits of Aquatic Therapy
Reduce pain
Minimize swelling
Improve range of motion
Gently build strength and muscle tone
Reduce fall risk
Improve circulation
Decrease impact on joints
Orthopedic Institute's licensed physical therapists provide one-on-one sessions for patients in Woodlake's therapy pool, which ranges from 84-86 degrees Fahrenheit and features a wheelchair lift. The pool depth ranges from 3.5-6 feet.
The Woodlake facility also caters to privacy. "Patients can go from the locker room to the pool and back to the locker room without having to walk around the facility. This unique setup really takes away the intimidation factor," he says.
We have been building this program for more than a year," says Brad, who adds that standardized therapy protocols will be closely followed. "This is great for the community and something that people are really going to benefit from."
Insurance does provide reimbursement for aquatic therapy and OI accepts outside referrals, he says.
"Whether someone is a surgical or nonsurgical patient, our ultimate goal at Orthopedic Institute is to get them back to an active, healthy lifestyle," Brad says. "Water therapy is a great median for that."
For more information on aquatic therapy, call 605-977-6845.