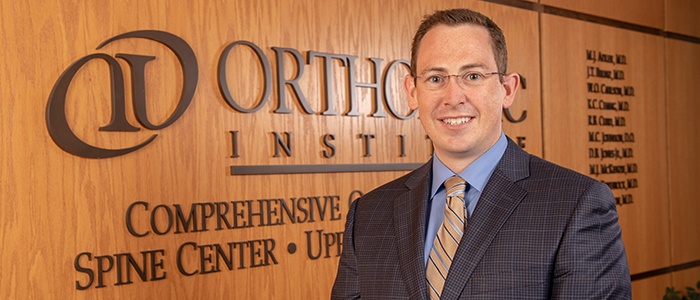 We're digging into the impressive roster of physicians we have here at Orthopedic Institute (OI), letting you get to know some of the team members that make us proud.
Get to know Dr. Jonathon Geisinger, the latest addition to our "Patients First" team!
Dr. Geisinger trained at some of the best and largest institutions in America and graduated at the top of his medical school from the University of Iowa. He is a fellowship-trained orthopedic surgeon specializing in neck and back treatment.
Let's take a look at why Dr. Geisinger is passionate about helping patients get back to life with decreased pain and increased mobility.
1. How did you decide to become a physician?
Growing up on a farm, I developed an aptitude for fixing things. I worked in my father's swine buildings fixing and maintaining nearly every system. I thoroughly enjoyed fixing tractors, combines, and various other implements on the farm. I have always had a deep desire to understand how things work. Then in high school, I had my first physiology class and it was the only subject that piqued my interest more than working outside.

I had an opportunity to enroll in a career transitions class during high school that allowed me to follow surgeons at my local hospital and learn about orthopedics. I remember watching total knee and hip replacements and I was fascinated by the instrumentation and the implants that were used in surgery. From this experience, I knew I wanted to go into the surgical field. I set my goal on applying for medical school to become a surgeon.
2. What led you to join the OI team?

Geography! My wife and I grew up on farms a few miles apart from each other just south of Spencer, Iowa. We moved to Iowa City where I attended college and then medical school at the University of Iowa Carver College of Medicine. After graduating, we moved to Royal Oak, a suburb of Detroit, Michigan; where I did five years of orthopedic residency.

Our two boys were born while living in Royal Oak and we realized the importance of having family close so they could be a part of our children's lives. It was crucial to us that our kids grow up in the heart of the Midwest so we could share with them the agrarian values my wife and I were raised with. With this in mind, we were set on coming back. I feel very fortunate to find a prestigious position with a premier orthopedic group in the tristate area.
3. What is your favorite part of your job?

There is nothing in the world that is more rewarding than when the patient and I achieve a good outcome together. When people come to see me, most are suffering from arm, leg, or back pain that has dramatically impacted their lives. They are often unable to function and or work at a level they once were easily able to perform.

Working with someone to find the right treatment, whether it is non-operative or operative, to achieve pain relief and restore function is the best part of my job. It gives me a great deal of satisfaction when I see people come back after their treatment or surgery and they are smiling and resuming their normal lives. It drives me to get out of bed early each day and helps me to look forward to the work I will accomplish.
4. What do you feel are the strengths of Orthopedic Institute's physician team?

Everybody wants to be on a winning team. That describes the Orthopedic Institute staff. We are a top tier orthopedic group with an outstanding reputation for integrity, quality, and high patient satisfaction.
5. What is the best part about working with patients?

The physician/patient relationship is a very sacred and privileged one. A favorite aspect of my career has been building these relationships with people. While patients come from all walks of life and often have complex problems, each have certain things in common. Each person has responsibilities and cannot afford to have their lives altered by pain and disability. Building relationships with these people and gaining their trust that I will do my best to alleviate their pain and get their function back is a commitment that I take very seriously.
6. If you could tell every patient one thing before each came in, what would it be?

Relax! Patients have a lot of uncertainty when it comes to their spine. Please rest assured that I will listen to your concerns and develop a treatment plan that is tailored to you. Together, we will go over spine models and review your imaging so that when your visit is over, you will have a much better understanding of your condition as it relates to your spine and a plan for recovery.
7. How do you spend your time when you're not at Orthopedic Institute?

My wife and I love returning to the farms where we grew up just south of Spencer, Iowa. Our families continue to grow corn and soybeans and also raise livestock. We strategically take vacations in the spring and fall to help in the field with planting and harvest. Also, my wife and I are working with our kids to build our own hobby farm. Much of our spare time is spent building fences for our livestock. We are excited to be back in the area and to have the ability to give our kids the same agrarian upbringing that my wife and I had.


8. What is your ideal way to spend your birthday?

Working. I love my medical career, but I also love working outside. The best way to spend a birthday would be working with my kids taking care of livestock or working in the fields.


9. If you could have dinner with anyone (living or dead, fiction or non-fiction) who would it be?

Jesus. He was the ultimate physician. Through God our father, Jesus healed people with the power of his touch. God has helped me to be in the position that I am in as a surgeon. With the blessings he has given me, I feel a serious responsibility to use my talents to care for people in a diligent, honest, and compassionate way using the skills I have developed in my many years of experience.
Dr. Jonathon Geisinger is a wonderful addition to our "Patients First" care team.
Learn more about his expertise - then schedule your appointment today.