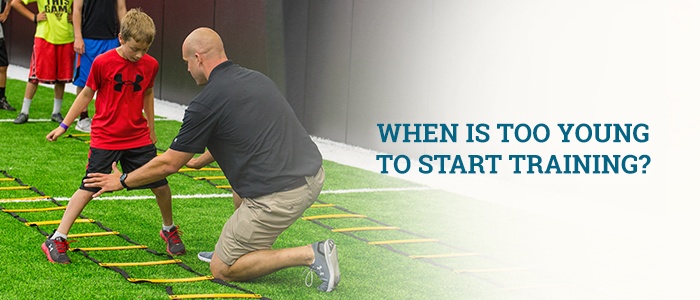 You and your child both might have big dreams for athletic prowess in the coming years. Whether it's college sports, a run at the Olympics or simply a lifelong commitment to health and wellness, athletic training might be on your itinerary.
But what are the potential benefits of starting your child on training at an early age? And how young is "too young" to start?
Growth
Overall, a regular health and fitness routine is positive for growth in children – those who are healthy have a leg up in height, weight management, muscle strength and even lung capacity. When it comes to resistance training in particular, studies have shown, in fact, that it can actually have a great impact on strength prior to adolescence. With the right trainer and program, preadolescents can achieve the same levels of strength gains that their adolescent counterparts do. (And there's no marked difference between boys and girls in this regard – the same similarity of results can be achieved regardless of gender.)
Benefits
Exercise is always a good thing. But what does strength training, and namely resistance training, offer a child? The NSCA has found that youth resistance training regimens can spur improvements in future weight management and risk of heart-related ailments. Beyond that, it can give children a start to optimum motor skills and improve athleticism – including decreasing a child's tendency toward injury while engaging in sports.
Getting Started
If your child is ready to get the ball rolling on a training program, such as resistance training, getting started is often as easy as finding a qualified, licensed professional to administer the program. A good rule of thumb for determining whether your child is ready is, if he or she is ready for participation in sports, then some degree of resistance training is likely possible and safe. First things first – consider scheduling a physical for your child to pinpoint any potential physical ailments before diving headfirst into training. A qualified instructor will walk your child through gym safety, initial ability expectations and proper use of the equipment right off the bat.
A youth training regimen should include a warm-up and cool-down period in each session that should last approximately five to 10 minutes apiece. Most coaches recommend starting with a high rep count and lighter weights: ask a trusted instructor for their opinion. To start, the NSCA recommends avoiding sessions on back-to-back days and to limit them to three per week at the most. These can be increased over time.
And this one's important – don't forget to ensure your child gets healthy meals, plenty of water and the optimum amount of sleep.
Are you ready to set your child up for future physical and athletic success by starting a resistance-training program? Orthopedic Institute along with D1 of Sioux Falls offers experienced and tailored training your child deserves. Contact D1 of Sioux Falls to get started.
Sources: National Strength and Conditioning Association