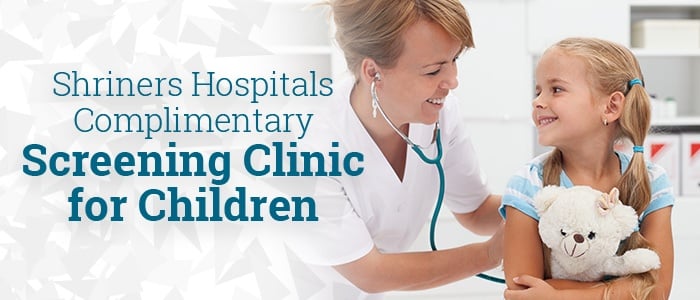 Has your child ever shown possible signs of an orthopedic condition? You can get your questions answered when you bring your child to the complimentary screening clinic at Orthopedic Institute (OI) in Sioux Falls which is sponsored by Shriners Hospitals for Children.
Read on to find out more about the event and how to participate.
The Details

Stop by OI in Sioux Falls at 810 E. 23rd St. (on the fourth floor), Saturday May 13. The clinic will run from 8 a.m. to noon and will be open to families looking to get their children screened for possible bone, muscle or joint conditions. You can set an appointment ahead of time or walk in on the day of clinic. Appointments are preferred.
The Clinic
There are certain symptoms that a child may exhibit that could be caused by a pediatric orthopedic condition. These may include:
In-toeing, toe walking or flat feet
Bowed legs or knocked knees
Sore, painful or stiff joints
Limb deficiency or length discrepancy
Curved spine
Clubbed feet
The clinic is built to identify whether or not these symptoms are indicative of a more serious and/or treatable condition. Those seen who require a follow-up visit at a hospital, and cannot afford it, will have transportation provided free of charge by the Shriners Hospitals for Children.
Children are seen regardless of insurance status or ability to pay. The free screenings are provided thanks to OI's Dr. Walter Carlson's connection to the Shriners Hospitals for Children, an organization in which he's been involved since finishing his pediatric orthopedic fellowship in Dallas, Texas.
Set an Appointment
To get an appointment scheduled for the screening clinic or to learn more about the event, call 612-596-6105 or 888-293-2832. To learn more about Shriners Hospital for Children, click here.