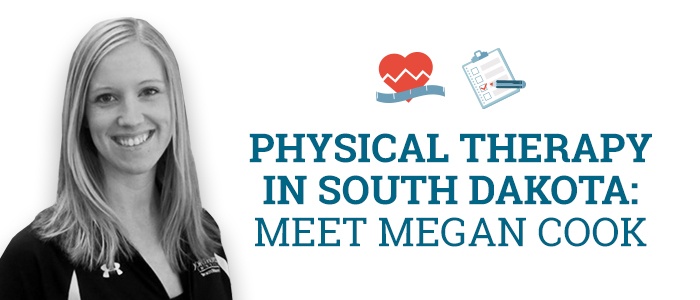 We take pride in our team of physical therapists at Orthopedic Institute (OI). This talented group of individuals can be a key asset when dealing with pain or other orthopedic conditions.
Our featured team member this time around is Megan Cook. Megan graduated from the University of Sioux Falls and earned her doctorate in physical therapy from Creighton University. She primarily specializes in outpatient rehabilitation and aquatic therapy.
Keep reading to find out more about some of Megan's most unique experiences since joining the team, as well as what she prides herself on in her care.
How did you decide to become a PT?
I was involved in sports throughout my childhood and was interested in the field of athletic training. My senior year of high school, I tore my ACL and meniscus playing volleyball and had to undergo surgery and extensive therapy. My own rehabilitation process opened my eyes to the career of physical therapy.
What led you to join the OI team?
I spent five months with the OI sports medicine team while I was recovering from my own surgery, and they were very knowledgeable and kind. My own success story as a patient led me to believe in the work that OI is doing. After physical therapy school at Creighton University, I moved to Scottsdale, Ariz., to begin my career. When I became engaged to my husband and moved back to the Sioux Falls area, I knew that OI was the place I wanted to work.
Describe a unique experience you've had working as a PT for OI.
I had the opportunity to work with the cast of the Broadway musical Matilda while they were in Sioux Falls performing at the Washington Pavilion. I was unsure of what to expect but was told that the cast members have an extremely demanding athletic component to their shows, so they often are susceptible to injury while traveling around the country. I stepped in as their "PT for the day" and treated multiple cast members in a fast-paced backstage setting, providing massage, stretching, corrective exercises and manual techniques according to their specific needs. It was fun to get to know the cast members and to be able to help them while they are away from their primary providers.
What is your favorite part of your job?
The best part of my job is forming relationships with patients and empowering them to be active in their pursuits of independence. I love it when patients stop back to report to me how well they are doing months or years after completing physical therapy.
What are the strengths of OI's PT team?
There is a camaraderie that allows us to ask questions of each other and collectively seek answers that will benefit our patients. The staff has extensive knowledge and many years of combined experience, which makes it a great environment for learning new things on the job every day.
What is the best part about working with patients?
I love meeting a variety of personalities and seeing the hope in their eyes when they realize that "PT" doesn't always consist of "pain and torture."
If you could tell every patient one thing before they came in, what would it be?
Speak up, and be honest with us about your symptoms and your personal needs. If you do not like the "idea" of therapy, just come in and give us a chance. We are able to tailor a PT program specifically for your goals—you don't have to be an athlete to participate in a PT program.
What is your career highlight?
I have had many patient-oriented highlights in my career, including seeing wheelchair-bound patients walk again and meeting patients who become life-long friends. Another highlight was helping to open OI's first-ever outreach PT clinic located at GreatLIFE Woodlake Athletic Club. It has been a great two years of working alongside the GreatLIFE staff and offering excellent PT services, including aquatic therapy, on the southwest side of Sioux Falls.
How do you spend your time when you're not at OI?
I can't wait to get home to my two little girls every night. They are five and three years old, and I am constantly chasing them around the neighborhood. Time with my family and husband is important to me. If I get "spare time," I like to run and play tennis and golf.
Get to know more about the PT team at OI here.