What do Alex Morgan, Megan Rapinoe, Brandi Chastain, Ali Krieger, Heather Mitts and Molly Doetzel have in common? They are all talented women soccer players who tore an ACL. And all, except Molly, played for the U.S. National Team.
Molly is still in high school and hasn't achieved recognition on a national stage. But here, in Sioux Falls, she's a star.
Molly anchored the defense for the O'Gorman's Lady Knights soccer team that was so dominating that this year they gave up just six goals the entire season. And, no surprise, they won the state championship.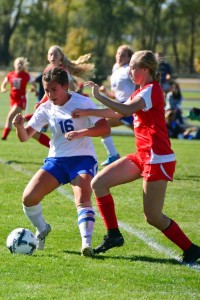 Molly was a big reason for the championship. Need proof? Had Molly not been injured, it's entirely possible O'Gorman could have won last year, too. It was in the state semi-finals that she tore her ACL, aka anterior cruciate ligament, and the Lady Knights fell short of the state championship.
Molly wanted to get back into action as quickly as possible. She and her parents wondered who to call. "Tons of people told us Dr. Looby was the best," Molly said, referring to Peter A. Looby, an orthopedic surgeon with Orthopedic Institute.
And with good reason. Dr. Looby completed his Fellowship in Sports Medicine at Harvard and, while there, was team orthopedic surgeon for the Bruins (hockey), the Revolution (soccer) and for the New England Patriots. Looby knows how to help athletes get back in the game.
"One thing striking about NFL quality athletes is their ability to heal," said Dr. Looby. "They are incredibly motivated. They get injured Sunday, you treat them Monday, they play next Sunday."
The athlete's motivation and Dr. Looby's care got them ready. It was this level of care Dr. Looby provided to Molly. "I was trained to handle elite athletes," said Dr. Looby. "I apply this training to all athletes whether they are training for the pros or they are weekend warriors."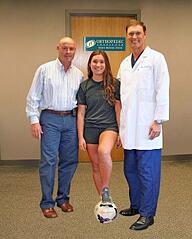 And so it was with Molly. "Dr. Looby repaired my ACL and helped me quickly regain strength and flexibility," Molly said. "Everyone told me—and from my own experience—that Dr. Looby is the best of the best." Something she echoes regarding her experience at Orthopedic Institute, particularly the rehabilitation process, which was led by Brad Pfeifle, VP of Sports Medicine & Rehab Services. According to her coach, Ryan Beier, "We didn't know if she would be able to come back this season as strong as she had been in the past. She was able to play at full strength, if not even better than before and she didn't need to wear a brace because of the hard work she did in therapy at Orthopedic Institute and with Brad."
Although it might seem strange, tearing her ACL turned out to be a great, even life changing, experience for Molly. Consider: where does Molly go from here? Does she want to play at the next level? Qualify for the national team?
No, Molly wants to hit the books. So inspired was she by her experience with Dr. Looby and Orthopedic Institute that she's now thinking about a career in sports medicine—something that touched Dr. Looby's heart.
"It's hard to imagine there could be any higher accolade," Dr. Looby said.