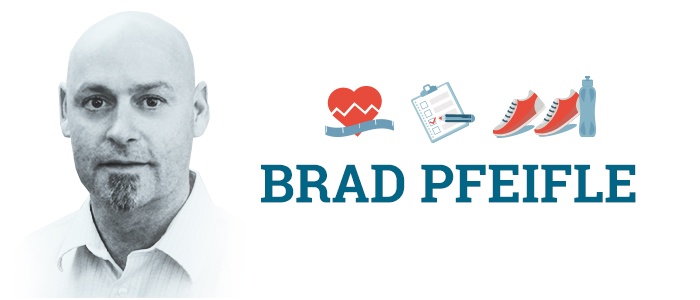 It may sound like an exaggeration, but it's about as close to fact as you can get – everyone at Orthopedic Institute loves Brad.
Ask almost any athlete in the region, and if they have had an injury, they have probably been to Brad Pfeifle at OI. Brad is a true ambassador of OI, serving as the Vice President of Sports Medicine and Rehab Services and leading more than 30 people in his departments.
So what makes this true OI staple special? Let's dive in, shall we…
What's makes Brad great?
Our very own orthopedic surgeon Peter Looby perhaps says it best:
"Brad is the best athletic trainer I've known in 40 years of being treated by and working closely with trainers, from high school to the NFL. No one individual is responsible for more internal referrals to OI than Brad. Sometimes I think he literally knows everyone in the state. If you walk through a crowd at a sporting event with Brad, it's likely to take 40 minutes to travel 100 feet, because everyone stops to talk to him."
What makes Brad a great trainer?
So Brad clearly makes a lasting impression – but how? Well, whether you are a weekend warrior, a high school athlete or someone who earns a living playing a sport, Brad will work you to your own 100 percent effort. And he'll offer great advice along the way and have you feeling and performing like you never have before. (And the fact that he's professional and personable certainly doesn't hurt!)
One of Brad's own trainees Mark Ovenden knows all this first-hand. He was playing racquetball on a Sunday with a good friend who happened to blow out his Achilles. He called Brad on a Sunday and, even though he had never met Mark's friend, got him in a boot that night and in surgery Monday morning.
That's what Brad does – he strives to make sure everyone else is in good shape.
But what about Brad outside of work?
Since it's June and we recently celebrated Father's Day, it's only fitting we hit the job that Brad is most proud of – raising two daughters, Sophie and Olivia. Brad says it is hard to talk about his girls without tearing up – take it directly from him:
"Raising my girls has many similarities to working with athletes. Some days they need a kick in the pants, and some days they need a hug. They put up with me being gone a lot with my work and never complain about it. My wife and I cherish all of the great memories they have given us and look forward to all of the new adventures. I am so proud of my girls because they have become such loving, caring and passionate young women."
When you ask the Pfeifle girls about their dad, they just light up with enthusiasm and love for him:
"He is one of the most influential people in our lives. He works so hard, and when he comes home he always has time for us. People ask us all of the time if he is the same at home as he is at work, and we tell them he is the same genuine, fun-loving guy! We love his motto that we're sure his patients hear all of the time, and that is, 'When in doubt, knees out.' But the saying we love hearing from him every day is, 'I love you.'"
---
Brad is just one of the many great, highly qualified trainers we have on-hand at Orthopedic Institute – get to know what our team has to offer.